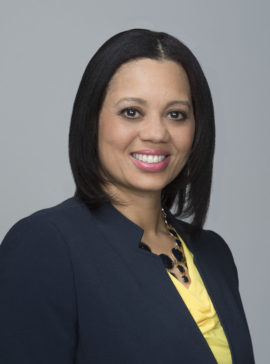 Angie M. Gates has been appointed to serve as the Director of the newly formed Office of Cable Television, Film, Music and Entertainment. Director Gates most recently served as the Director of the Office of Motion Picture and Television Development before that office merged (on October 1, 2015) with the District's Office of Cable Television. Before that, Gates served as the Director of Inauguration and was the former Director of Operations for Mayor Muriel Bowser's Transition Team. During Mayor Bowser's campaign, Gates was the Traveling Chief of Staff.
Gates made history as the first African American General Manager of the Historic Warner Theatre, located in the heart of the nation's capital. Her extensive experience includes work with President of the United States Barack Obama and First Lady Michelle Obama. Gates began her career as a film specialist for the New Orleans Film Commission and her film projects include Interview with a Vampire and Pelican Brief. She is the former Associate General Manager of the Historic Saenger Theatre, located in New Orleans and she previously served as the Director of Engagement Relations and Marketing for the Theatrical Division of Clear Channel Entertainment.
Gates received a Bachelor's Degree in Communication and a Master of Arts Administration Degree with a Special Concentration in Sports Management, graduating Summa Cum Laude from the University of New Orleans. Gates serves as a Board Member of the New Orleans Theatre Association and Negro League Hall of Fame. She is also a member of the DC Chapter of the Recording Academy of Arts and Sciences (The Grammy's).