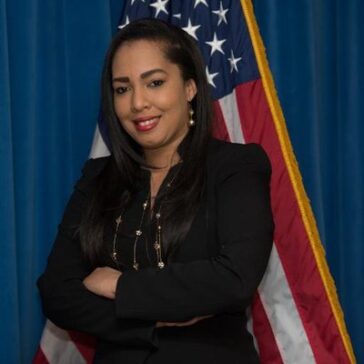 LaToya Foster was appointed to serve as the Director of the Office of Cable Television, Film, Music, and Entertainment (OCTFME). In her role, she also serves as the DC Film Commissioner and oversees the Comcast, Verizon, and RCN District of Columbia Cable Franchise agreements. 
Director Foster served as the Director of the Mayor's Office of Communications and served as the chief spokesperson for the Bowser Administration. In this role she managed the daily operations for the Executive Office of the Mayor and engagements for nearly 100 District government agency communications departments, including editing and reviewing internal and external correspondence such as media advisories, press releases, statements, graphics, and social media posts.   
LaToya, a native Washingtonian, is a seasoned communications veteran with an extensive background in radio and television production and hosting. Director Foster launched and led several programs, including Live at Five, The Washington Insider, and the Power Block that aired on Radio One, the largest urban broadcasting company in the world. She also launched "Voice of the City" which premiered on OCTFME's newly established DC Radio 96.3 HD4 in 2016.
She has contributed to national publications, including Upscale Magazine, The Source, and Sister 2 Sister, in addition to covering professional sports for local publications, news wire services and talk radio. LaToya was also an active member of the Washington, D.C. Boxing and Wrestling Commission.
Additionally, LaToya has demonstrated her commitment to public service. As an International Transportation and Trade Specialist, LaToya worked closely with the U.S. Secretary of Transportation and Transportation Ministers of foreign countries, in efforts of creating alliances and reinvigorating transportation systems in third-world countries. LaToya frequently traveled to Africa in efforts of improving the quality of Africa's transportation system to enhance U.S.-Africa trading opportunities.

In her spare time, LaToya volunteers countless hours to promoting civic engagement to minority communities, raising awareness to adoption and foster care, and mentoring inner-city youth. She is also a member of the National Congress of Black Women.